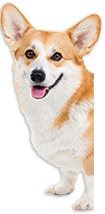 Welcome to the new Purr-fect Pets Round Rock website. We invite you to browse the site to learn more about the shop, our pet bathers and groomers, get informed with our FAQs, read about our service packages, and more!
Purr-fect Pets Round Rock is owned and operated by Cathy Morin. Cathy opened the original Purr-fect Pets in Georgetown over a decade ago. Due to overwhelming demand, an additional location opened in Round Rock in April of 2017. This means we now have two convenient North Austin locations.
Contact us today to schedule an appointment for your favorite four-legged friend. Your dog or cat will be looking their very best with a premium wash and groom from the experts at Purr-fect Pets Round Rock, all AKC Certified.
When you choose to have your beloved pet groomed at Purr-fect Pets Round Rock, you'll find that we not only take pride in our work, but we sincerely enjoy working with animals and look forward to pleasing you and your pets.
So, schedule an appointment today for your dog or cat, and see why Purr-fect Pets Round Rock has earned the reputation of being "the friendliest shop in town!"